It's Time to Get Angry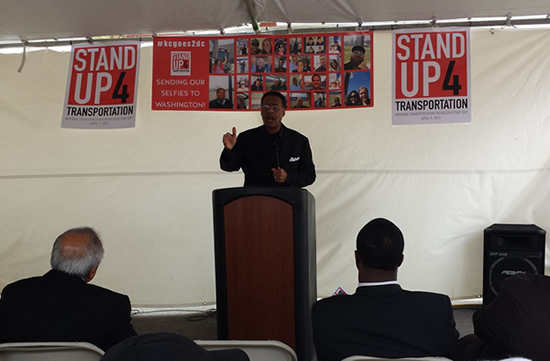 Congressman Cleaver speaks at the National Stand Up for Transportation Day Event about the importance of transportation and infrastructure. Read more here.

Yesterday, I joined local elected officials, community organizations, and other public transportation partners to rally support for an important cause: transportation. Investing in transportation projects helps people who depend on them. It revitalizes communities and energizes neighborhoods. It creates jobs and bolsters economic activity.

The economic benefit that comes with infrastructure investment is indisputable. Every $1 invested yields $4 in economic benefits. At a time when our infrastructure is crumbling, our roads and bridges are in dire need of repair. We cannot sit by and play partisan politics and argue while our infrastructure continues to deteriorate. We need to pass a new surface transportation authorization.

This is our country, this is our community! We ought to stand up and demand people support a transportation bill! Anybody who won't do the things it takes to rebuild this country doesn't deserve to be in public office.

That is why I take every opportunity to fight for the improvement of roads, bridges and waterways in my district. We have a few bright spots to spotlight, but the broader picture is dark and dangerous. Bridge after bridge after bridge is in danger. Highways are crumbling. Americans spend 5.5 billion hours in traffic each year – billions wasted in time and gas. If you are an average commuter, studies show you lose sixty hours a year or more, just sitting in traffic.

Real, long-term job creation in public transportation comes with predictable funding, so that agencies and businesses can do better long-term growth planning. In order to afford our investments, we must address the Highway Trust Fund. We face a May 31 deadline to find funding for the Transportation Bill and Highway Trust Fund.

Most people believe that we need to maintain and improve the transportation systems that serve the nation in so many ways. Costs associated with our public transportation systems include:
An $86 billion one-time cost to bring the nation's existing transit infrastructure into a state of good repair;
The annual cost of maintaining the existing system and doing normal replacement of aging buses, rail cars, and facilities;
The cost of expanding public transportation facilities in growing communities; and
The costs of maintaining our aging roads and bridges.
The easiest way to do maintain and improve our transportation systems would be to raise the federal gas tax, which has not been increased since 1993. We still do not know whether or not Congress will be able to put together a long-term bill to fund the Highway Trust Fund, or whether a patch will be needed.

Truth be told, we have already patched the Highway Trust Fund thirty-two times in the past six years. Simply by raising it and indexing it to inflation, we could secure the future of the transportation bill. That is why I am a cosponsor of the UPDATE Act, a bill that would do exactly that.

Public transportation provides much needed mobility in large metropolitan regions, medium and small cities, and rural communities. In Kansas City, Missouri, we have seen major improvements completed within the 39th & Prospect corridor.

Sidewalks improvements at the intersection surrounding 39th & Prospect and south of this location allow for a safer, mobility-friendly experience not only for pedestrians but also for persons with disabilities. When the 22nd to 27th & Prospect Improvements project is completed next year, bus riders and pedestrians will no longer have to navigate around large street holes and crumbled sidewalks. KCATA has spent the last two years creating faster service on Prospect, where bus riders can also count on buses that arrive and leave as scheduled. All along the route, you will see modern shelters, benches and monuments with state-of-the-art real-time arrival information.

None of these projects and future developments would be possible without federal funding.

Creating jobs and boosting our economy is of paramount importance if we are to keep building on the slow rebound our country is now seeing. This is not a Republican or a Democratic goal, but one we all share.

Democrats and Republicans all use the same roads, bridges and highways. Businesses need a solid and safe infrastructure to get products where they need to be. Killing jobs at a time when the economy is making a slow, but sure, rebound is unfathomable. We can no longer kick the can down the road. Billions of dollars and millions of jobs are on the line.