Keeping Our Pension Promises

My 93-year-old father still lives in the Texas town where my four sisters and I were raised. When I think about how much he and my mother sacrificed for us, my heart overflows with gratitude. I couldn't imagine my father struggling with the thought of losing his home, or choosing between medication and paying for utilities. Yet these are the stories I heard from thousands whose pensions are being drastically reduced from the Central States Pension Fund.

At a public town hall meeting this week in Kansas City, retirees came by the bus load wanting to tell their stories, asking for help to stop the cuts or find a solution.

U.S. Department of Treasury's Special Master for the implementation of the Kline-Miller Law, Kenneth Feinberg, listened to their pleas. As did I, who encouraged Mr. Feinberg to make one more stop before ending his public tours. Make the last stop in Kansas City, Missouri.
| | |
| --- | --- |
| | |

I don't know if people realize that a pension isn't gifted money or a reward for a job well done. This fund, that millions paid into from their salaries, was money earned by Teamsters, union workers, machinists, and truck drivers – everyday people who worked hard to save for a secure retirement. They thought they were setting money aside for their futures and their families. People, like one truck driver I spoke with, who worked 30 years. He received a letter from Central States Pension Fund informing him that instead of the $3,000 monthly benefit he was expecting in July, he would now receive about $1,200. And another retiree, now in his 70's, who sent four children to college and now says he will need to find work just to keep his home.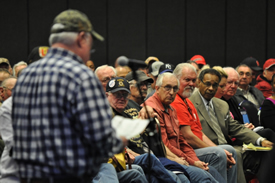 I want to know how the Central States Pension Fund with a reported $18 billion in net assets could fall so short of its commitments. I have drafted a letter to request that the Department of Justice investigate the Central States Pension Fund to determine if there was any mismanagement of funds that led to today's insolvency. I am also co-sponsoring two bills; H.R. 2844, the "Keep Our Pension Promises Act," and H.R. 4029, the "Pension Accountability Act".

I want to be a part of the solution.

When I see these retirees, or listen to their stories, I not only see the numbers, the thousands affected or the millions of dollars lost, I see people. I see myself. I see my father.

Warmly,

Emanuel Cleaver, II
Member of Congress