My Trip to Kenya and Ethopia
Last week I had the great opportunity to join President Barack Obama and twenty other Members of Congress, a bipartisan group of both the House and the Senate, on a five-day trip to Kenya and Ethiopia. We left from Washington, D.C. Thursday evening and spent two days in Kenya and two days in Ethiopia.

While in Kenya, we attended the Global Entrepreneurship Summit (GES), an annual event begun by the President in 2010. This year's summit, held in Nairobi, assembled entrepreneurs, leaders of business in varying industries, start-up business mentors, and high-level government officials. Previous summits have taken place in Turkey, the United Arab Emirates, Malaysia, and Morocco.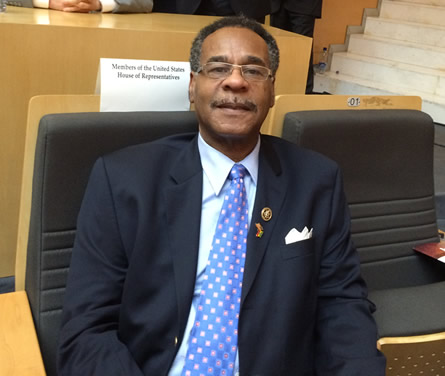 Congressman Cleaver at the Global Entrepreneurship Summit in Nairobi.

After the opening plenary, we had the chance to go out and visit the Nairobi National Park and the Sheldrick Animal Orphanage, which offers hope for the threatened elephant and rhino populations in Kenya. Poachers kill about eleven elephants a day in Africa, and if they continue we will end up killing off one of the most exotic animals on the planet. All of these infants or teenage elephants that are in this refuge are friendly. They were having their daily play time and enjoying rolling in a big puddle of mud.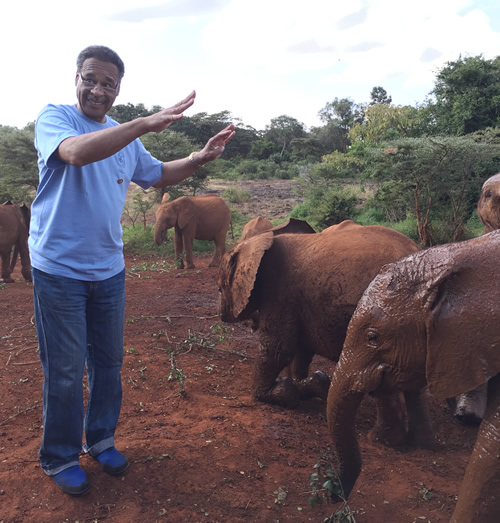 I was trying to train them on not getting in the mud, but they didn't listen,
never accepting my leadership!

Love for all God's creatures transcends all party lines. As recent headlines have indicated, we need to do more to protect our majestic animals. The protection, preservation, and continued support for the welfare of all animals is a matter of great concern to me.

Saturday evening we attended a State Dinner at the State House with Kenyan President Uhuru Kenyatta. On Sunday, President Obama addressed the GES, speaking about the United States' relationship with the Kenyan people within the global economy. Later in the trip, we traveled on to Addis Ababa, Ethiopia, where we visited the Memorial for the plane crash site of Texas Congressman Mickey Leland that went down in 1989. My friend, Massachusetts Senator Ed Markey, who was also on the trip, was good friends with Congressman Leland. It meant a lot to us to take the time to visit the site.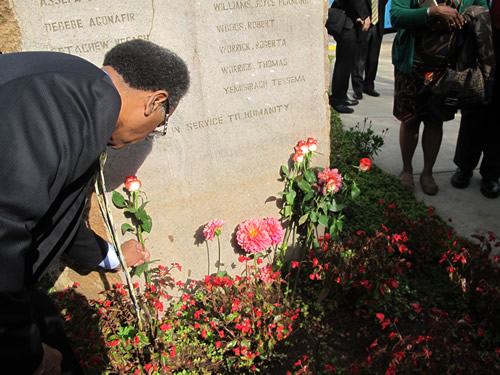 Congressman Cleaver places a flower at the Memorial site.

That evening we attended a State Dinner with Ethiopian President Mulatu Teshome and Prime Minister Hailemariam Desalegn. On our last day President Obama delivered a speech at the African Union and discussed food insecurities and USAID's support of grants and funding to ensure that people have their basic needs met, as well as the White House's program Feed the Future.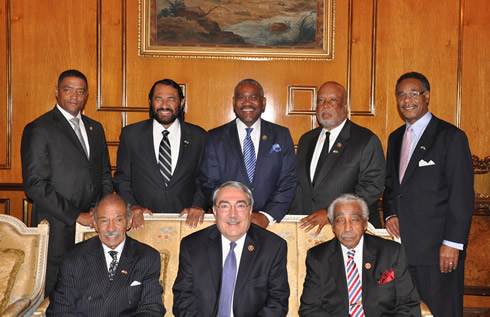 My colleagues and I before the State Dinner in Addis Ababa.

As today's global economy becomes more and more interconnected, we must do our part to ensure that African countries can compete worldwide. It was a great opportunity to participate in this delegation and highlight the importance of job growth, education, health care, and even climate change in our discussions. I am grateful to have had this opportunity, as a person with African roots, to strengthen the ties between the United States and these African nations and the African people.

Warmly,

Emanuel Cleaver, II
Member of Congress