Our Future Soldiers, Sailors, and Airmen
Today's EC from DC is a special one. It's not about me, or what's going on in Washington, DC, or what we see on the news. It's about six promising young people from our community.

These six students who attend Wentworth Academy in Lexington, Missouri, received their appointments to attend the US Air Force Academy next fall. As your Fifth District Representative in the U.S. House of Representatives, each year I have the privilege of nominating a limited number of people to four of the five service academies. The honor of attending a service academy comes with an obligation and commitment to serve in the military for a minimum of five years upon graduation.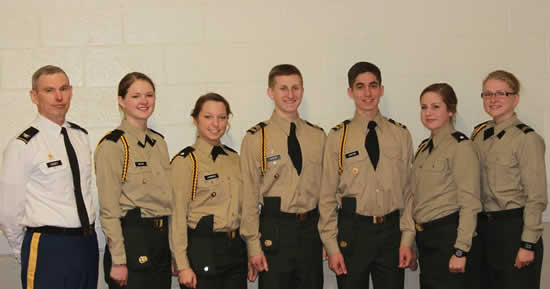 Cadets Jeffery Austin, of Pringle, Pennsylvania, Luke Easton of Spring Texas, Emma Lindberg of Shepherdstown, WV, Amanda Miller of Lakeville, MN, Paige Ramirez of Wood Dale, IL and Nicole Severson of Laverne, MN, have received appointments to attend the USAFA beginning next fall. Our entire community should be proud and honored of their progress and potential.

The United States Air Force Academy is a military school for officer candidates for the United States Air Force and was founded in 1954. Its campus is located north of Colorado Springs in El Paso County, Colorado. It is very, very difficult to be selected to the USAFA. According to their website, in 2012, the acceptance rate was 12%.

Wentworth Military Academy and College is one of eight institutions authorized by the Falcon Foundation to host the United States Air Force Academy (USAFA) Falcon program. The Falcon program at Wentworth is a total immersion into military training, challenging academics and character development, all of which provide a competitive edge essential to success at the Air Force Academy. All six of the Cadets participating in the Falcon program received appointments to USAFA, continuing Wentworth's 100% Falcon to USAFA acceptance rate.

A few months ago, I had the honor of hosting many students from our community who I have been able to nominate to our military academies. Their records thus far were extremely impressive and I look forward to seeing their success in the future.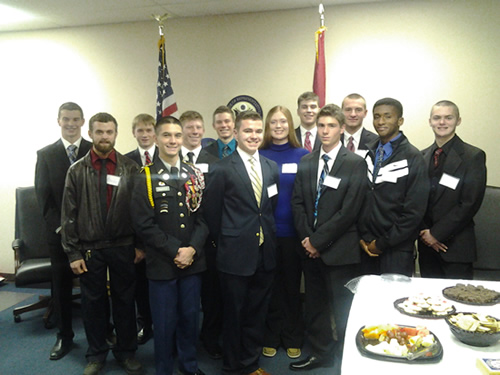 Front Row: Joshua R. Ramirez, Van Horn High School; John M. Hennessy, William Chrisman High School; Second Row: Brandon Schrader, Grain Valley High School; Jacob Allen Hicks, Polo High School; Mary M. Mertes, Notre Dame de Sion; Joshua Frederick Kratt, Lee's Summit West High School; Sheldon G. White, Lee's Summit West High School; Top Row: Eric W. Koch, Pembroke Hill High School; Ryan Christopher Palmer, Odessa High School; Jacob C. Gowan, Blue Springs South High School; Benjamin Daniel McCausland, Rockhurst High School; Brady W. Bird,Rockhurst High School; Franklin E J Cotter, William Chrisman High School. Not Pictured: Luke S. Jokerst, Rockhurst High School; Machinist Mate Third Class Nicholas A. Nathan, Presently serving in the United States Navy; Brandon Schrader, United States Army Reserve; Zachary Xavier Scott, Presently Attending West Point Prep.


If you or someone you know is interested in the U.S. Service Academies, please review my page of Frequently Asked Questions for those seeking a Military Academy Nomination. Join me in extending best wishes to all these young people as they pursue their goal of attending one of the U.S. Service Academies and serving our country.