Our Veterans Visit Washington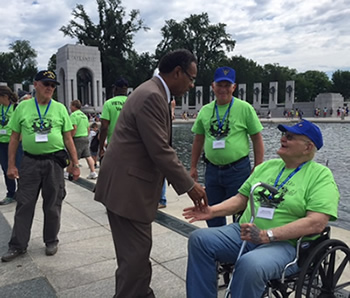 Congressman Cleaver greets Ward Golston, a World War II Veteran

You may have heard of the incredible program, Honor Flight. The inaugural Honor Flight took place in May of 2005. Six small planes flew out of Springfield, Ohio taking twelve World War II veterans on a visit to the World War II Memorial in Washington, DC. Year after year, Honor Flight allows World War II veterans to visit Washington, D.C. at no cost to them, in honor of their sacrifice and service to America.

This week, I visited with several veterans from Missouri's Fifth District and from throughout our great state. They were in Washington on the Show Me Honor Flight. Veterans from World War II, the Korean War and the Vietnam War were represented in the group. It was, indeed, my honor to visit with them during their trip, and to listen and learn more about their heroic experiences. I hope you join me in thanking them for their brave and remarkable service.

Over the past few years, I have made the trip from my Congressional office down to the World War II Memorial to visit with veterans who fly in from Missouri. It is, to tell you the truth, a much-needed respite from the rancor of Capitol Hill. To meet these men and women, to shake their hands, is but a small way in which I can pay tribute to their service and sacrifice.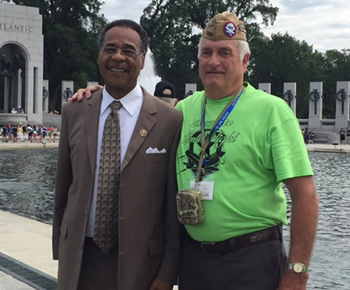 Congressman Cleaver is pictured with Ronald Fountain, a veteran from Deepwater, Missouri

You can learn more about Honor Flight and the good work they do here. It was truly an honor and a pleasure to meet with them.

As you may know, earlier this month, I had the pleasure of being present at the White House when President Obama awarded the Medal of Honor posthumously to Army Sergeant William Shemin and Army Private Henry Johnson for conspicuous gallantry during World War I. The year 2017 will mark the centennial of America's first engagement in World War I and commemoration of the anniversary will consist of educational and interactive events nationwide, including the construction and dedication of a National World War I Memorial in Washington, D.C. The U.S. Mint will begin circulation of a WWI Commemorative Coin in 2018 to celebrate those who served

For these reasons, among many others, it seems fitting for the United States Postal Service to join in honoring the memory of World War I, its role in American and world history, and its veterans with a commemorative series of stamps from 2017-2019. That is why I sent a letter to the Citizens Stamp Advisory Committee calling for the creation of a series of commemorative stamps to be issued in 2017, 2018, and 2019 in memory of World War I.

These stamps will allow us to pay tribute to the service and sacrifice of World War I. If you look at the last letter you put in the mail, you might notice that the postal service has a history of memorializing significant historical events through stamps, including the 100th Anniversary of the Civil War, World War II, Vietnam War Veterans, Korean War Veterans, Desert Storm-Desert Shield, Rough Riders 50th Anniversary, and the 150th Anniversary of the Battle of New Orleans. But no stamp exists to honor the brave veterans of World War I.

More than four million men and women from the United States served in uniform during World War I and over two million American soldiers served overseas in our pursuit for peace. Issuing a series of stamps would allow us to pay tribute to the diversity of American involvement in World War I hostilities while honoring the memory, service, and sacrifice of over four million outstanding Americans.