Preparing for the Zika Virus
Dear Friends,
Recently, there have been growing concerns over the Zika virus. I want to keep you updated on the most recent information from the Centers for Disease Control and Prevention (CDC).
While a Zika vaccination has not been developed, the White House has asked Congress for $1.9 billion to help state officials prepare for a Zika outbreak this summer.
Some key strategies that will help decrease your odds of being bitten include:
Using EPA-registered insect repellent
Wearing long-sleeved clothing
Installing window screens in your home
Eliminating standing water around your home
Since February 2016, approximately 591 people in the U.S. have reported infection due to the Zika virus. The infection is typically mild and lasts for several days to a week. The most common symptoms of infection include fever, rash, joint pain, and red eyes.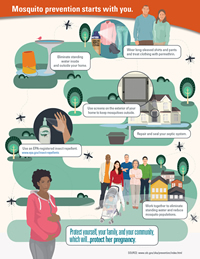 Infection remains a serious concern for pregnant women, as the virus can cause a severe brain defect in newborns called microcephaly. If you are travelling this summer, click here to review Travel notices and other travel tips.

I hope that you will take this information into consideration in order to preserve the well-being of yourselves and your loved ones.

Warmest regards,

Emanuel Cleaver, II
Member of Congress