The Weight of Sacrifice
Through some small miracle of air travel, I was able to make it up to DC this week for an announcement that no amount of snow was able to keep me away from. On Tuesday, the U.S. World War I Centennial Commission made and presented its selection for a second national WWI memorial to be constructed at Pershing Park in Washington, D.C. at the National Press Club.

The winning design for the WWI Memorial is entitled "The Weight of Sacrifice" by Joseph Weishaar and Sabin Howard. The announcement of the winning design brings us one step closer to fulfilling something long overdue in constructing a memorial to honor the brave veterans of WWI in our nation's capital.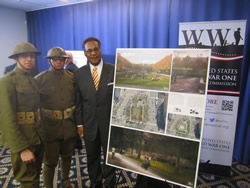 Joining World War I reenactors next
to the winning design
The National WWI Museum and Memorial, located in Kansas City, Missouri, received national memorial designation in legislation passed by Congress a few years ago. The same status was also granted in that legislation to the future memorial at Pershing Park. The Museum and Memorial in Kansas City is America's leading institution dedicated to remembering, interpreting, and understanding the Great War and its enduring impact on the global community. The museum holds the most diverse collection of WWI objects and documents in the world and is the second-oldest public museum dedicated to preserving the objects, history and experiences of the war.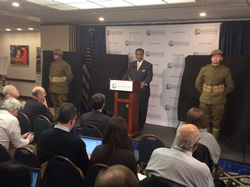 Tuesday's Announcement at the National Press Club to the winning design
President and CEO of the National World War I Museum and Memorial, Dr. Matthew Naylor, said on Tuesday, "[We] applaud the U.S. World War I Centennial Commission for their diligent efforts to create another national memorial to the 4.7 million Americans who bravely served in the Great War. Like the existing national memorial in Kansas City, upon its completion, the new memorial in Washington, D.C., will play a crucial role in educating the public about the Great War's profound and enduring impact. Given the richness of history in the region, it's absolutely fitting that a national memorial exists in Washington, D.C."

I want to extend my warmest congratulations to the winning design team. I look forward to working with them and the Commission on this project. To learn more, visit www.theworldwar.org and www.worldwar1centennial.org/.

Warmly,

Emanuel Cleaver, II
Member of Congress